Looking for a hotel is like finding the perfect outfit. You want something that fits you and your style, an outfit that can be relied upon, but you also want the most bang for your buck. After all, if you're going to be spending a good chunk of money on something, it better be for something that you're going to love.
At New Victorian Inn & Suites, we understand this, which is why we have made it our mission to provide the best amenities, service, and overall care for our guests — while still maintaining the best and most affordable prices. From jacuzzi suites in each hotel room to an out-of-this-world breakfast bar, to being a pet-friendly place for you (and your pup) to stay, our Lincoln hotel has it all. See our ranking of the best hotel amenities, and then see it for yourself by booking with New Victorian Inn & Suites today!
#10: Laundry On-Site
You've packed the bags, you've packed the car, you're ready to hit the road, when all of a sudden, ____________ happens. That blank space could be a number of things, such as running over a bump at the exact moment you were trying to take a sip of coffee. Or it could be that your small child ate something that unfortunately didn't agree with them, and your blouse is now looking equally unfortunate. Or you just completely forgot to pack those remaining clothes, and are down to one outfit. All of these things happen! Whatever the case may be, having on-site laundry is an excellent hotel amenity. Most people don't usually need to rely on laundry, but it's great to have on hand — making it a shoe-in for a top-10 spot in our hotel amenity rankings.
#9: ATM Available
When you need cash, it's usually in a moment that's cause for groans of despair — because you don't have it. In the 21st century, our use of and need for cash continues to dwindle, but there are still plenty of establishments that require it. Having an ATM on hand is a solid hotel amenity, because it saves on time and transportation. When you're in a city you don't know and you finally get to your hotel, the last thing you want to do is leave the premises to get to an ATM. Trust us when we say there's an easier way — just rely on our ATM at New Victorian Inn & Suites instead.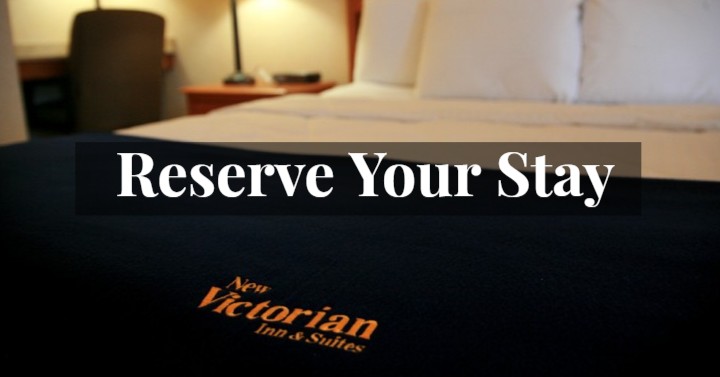 #8 Hair Dryers
They're bulky, they take up tons of room in the suitcase — we get why you might not want to pack your hair dryer. And of course, if you've forgotten your hair dryer, this can be quite the nuisance. Fear not, because at New Victorian Inn & Suites, we've got you covered. Our hair dryers are available in the room, among with other toiletry items, such as shampoo, conditioner, and body wash. Instead of digging through your suitcase to find your hair dryer (and subsequently pulling everything out to only find it at the bottom), feel free to leave it behind and go with our No. 8 amenity.
#7 Flat Screen TVs
It might seem like a 42-inch flat screen TV should be higher up on the list of our top amenities, but the truth is, we have so many amenities to choose from that the number seven spot is still a great one. In each of our hotel rooms, you'll find an incredible flat screen TV that's included for the sole purpose of helping you kick back and relax. This is your vacation, after all, and you absolutely deserve to stay up late or sleep in with some cable TV and movies playing in the background. A television is more considered a "must" than an amenity at this point, but we can't imagine our Lincoln hotel without them, making our flat screen TVs rank in at No. 7.
#6 Free WiFi
WiFi is probably everyone's favorite amenity, even if they don't realize it. Our connections, communication, businesses, games, social media platforms — everything is linked to the internet which makes WiFi more of a necessity than an amenity. But all the same, WiFi is not something that's guaranteed at every place you stay, and oftentimes the wireless connection will run pretty slow. This is far from the case at New Victorian Inn & Suites, which is why our free WiFi ranks among our best hotel amenities and accommodations.
In our next blog, we'll cover the remaining five best amenities that you can expect from staying at our Lincoln hotel. With locations across Nebraska and Iowa, you can trust that New Victorian Inn & Suites will provide you with a luxury hotel experience at an affordable price. Stay tuned until next time, and book your visit with us in Lincoln, Omaha, Kearney, Norfolk, or Sioux City today!